>> Monday, May 3, 2010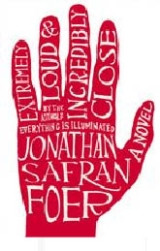 I read The History of Love first. Miranda gave it to me the weekend before student teaching started.I wanted to hug her and hit her at the same time. I had so much to do, but I couldn't stop reading it. I finished it in one day. I have to read it again. It is one of those books that sticks with you. Truly lovely.

The second must have book was given to me by my wonderful mentor, Jois. I didn't know what to expect at all. It was a little difficult to get into at first. I was reading Extreamly Loud while the students were listening/reading to The Boy in the Stripped Pajamas. I found myself laughing out loud. I was so lost in the book I had forgotten where I was. So great. Just so great.

I'm not sure if you've noticed, but I frequently get books as gifts. I love books. Sometimes I think if I had to choose between books and food which would win. Probably books... but only for the first few days.